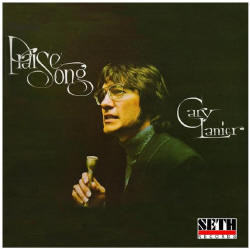 MUSIC STYLE: Inspirational
ABOUT THE ALBUM:
PRAISE SONG was recorded in 1975, shortly after Gary Lanier left Crescendo Publications of Dallas, Texas as staff composer and arranger, having been on the staff from 1971 - 74. Saying "yes" to a call from God to enter full time itinerate ministry, Gary served churches across America, and in various places around the world, through concerts, revivals, camps, music workshops, and worship events. The following is the back-liner notes from the album, Praise Song:
From Gary Lanier, 1975:
As a staff composer and arranger at Crescendo Publications, Inc., it was my pleasure to arrange and conduct numerous recording sessions for Christians in the field of sacred music. Now, a few years later, I have been given the pleasure of singing on my own record. This has been made possible through Billy Hilbun, President of Crescendo, best man at my wedding, and a very dear friend. Thank you, Billy, for making this whole thing possible.
Hopefully, the songs selected will be a blessing to many in that they point to Jesus Christ as the answer to every problem. This means, no exclusions! He is Lord, He was Lord, and He is going to continue to be Lord. "I am the Alpha and Omega, the beginning and the end, saith the Lord, which is, and which was, and which is to come, the Almighty" (Revelation 1:8).
ALBUM CREDITS:
1975
Executive Producer: Billy Hilbun
Producer: Eddie Fargason
Arranger and Conductor: Gary Lanier
Studio: Sumet-Bernet Sound Studios, Dallas, TX
Engineer: Bob Sullivan
Photography: Bryan Price
Cover Design: Al Mayton
2011
DIGITAL ALBUM REMASTER: Gary Lanier
STUDIO: Broadway Recording Studio, Broken Bow, OK
COVER ART: Valleta Lanier
▼ LISTEN & PURCHASE SINGLE MP3s SHIPPED VIA EMAIL! ▼

IMPORTANT! PURCHASING A DOWNLOADABLE PRODUCT:
After purchase there will NOT be a download link on your final CCNOW check out page.
You will receive a SEPARATE email from eMUSIC FOR WORSHIP with your
purchased downloadable products and/or links to download web page(s).

Report use of all songs to
CHRISTIAN COPYRIGHT LICENSING INTL