►THE CHORAL VIDEO REVIEW | ARRANGED BY GARY LANIER
DOWNLOADABLE PRODUCT INFO:

IF YOU ARE PURCHASING A PRODUCT:

After purchase you will receive an email from eMUSIC FOR WORSHIP that includes files of your purchased eMusic product. There will NOT be a download link on your final purchase page. You will receive a SEPARATE email from eMUSIC FOR WORSHIP with your downloadable purchased products.

DOWNLOADABLE CHORAL PRODUCTS:

Choral

Sheet Music

$19.95 BUY

SHIPPED VIA EMAIL!

Includes: CHORAL/ACCOMPANIMENT SCORE, CHORAL PARTS,

UNLIMITED COPY LICENSE, & COVER ART (PDF Files)

Choral

MP3 Track $6.95 BUY SHIPPED VIA EMAIL!

For Choral Arrangement or Soloist.

FREE WORSHIP PRODUCTS! Scroll down for:

1. LEAD SHEET

2. HYMN SHEET

3. LIVE WORSHIP MP3

4. WORSHIP VIDEO
FREE WORSHIP VIDEO ►DOWNLOAD

CLICK HERE to listen to JESUS IS COMING,

LIVE WORSHIP with Gary Lanier!

If the above player does not work, click the image for a FREE WINDOWS WINDOW PLAYER

FREE LIVE WORSHIP MP3 ►MP3 DOWNLOAD

Right Click & "Save Target As" to a file of your choice.

PRINT FREE SHEET MUSIC!

FREE LEAD SHEET ►DOWNLOAD

FREE HYMN SHEET ►DOWNLOAD

Sheet Music includes an UNLIMITED COPY LICENSE.

Report use of all eMusicForWorship songs to CCLI.
| | | |
| --- | --- | --- |
| Report use of all songs to | | |
---
Over 40 Years of Christian Music Publishing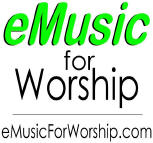 SHARING WORSHIP eMUSIC WITH THE WORLD.
In Cooperation with

THE LANIER COMPANY
SHARING WORSHIP PRINT MUSIC WITH THE WORLD.
Distribution and Administration for:
HOUSE OF LANIER PUBLISHING
CATHEDRAL CHORAL PRESS
PRAISE & WORSHIP PUBLISHING
CHURCH MUSIC PRESS
LL PUBLISHING
GOFORTH MUSIC PUBLISHING
POWER PRAISE HAWAII PUBLISHING
SETH RECORDS
CROSS STRINGS RECORDS
In Association with:
ASCAP - American Society of Composers, Authors & Publishers
BMI - Broadcast Music Incorporated
CCLI - Christian Copyright Licensing International
eMusic for Worship . music@emusicforworship.com